Fall Creek FAV Saffron
Your new 2009 Herdsire with Milk, Show, Color!
This buck will bring great things to your herd. Saffron has super strong milk genetics behind him and the show wins in his pedigree are impressive. His sire comes from the Rosasharn farm. His dam has numerous show wins and has a lovely udder. Saffron is quite the nice little buck in his own right – colorful and TINY! He will make someone a wonderful herdsire for 2009. Don't miss out on this great chance to add these wonderful genetics to YOUR herd! Saffron is priced at $400.
SSS: ARMCH Goodwood Tom Thumb +*S
SS: Rosasharn's Under My Thumb +*S E
SSD: ARMCH Goodwood Water Lilly *D
Sire: Rosasharn's UMT Viceroy *S
SDDS: ARMCH Tiger L +*S E
SDD: ARMCH Rosasharn's Mariposa 4*D VG
SDD: ARMCH Rosasharn's Guadalupe Moteada 3*D E
DSS: Ceasar's Villa FD Sugar Foot *S
DS: MCH Brush Creek SF Taisman
DSD: Ceasars Villa CBS Zelda
DDS: Prairie Wood Santa Fe Blues
DD: Fall Creek Devil Ina Blue Dress
DDD: Body Shops WR Blaze
For more pedigree information on Saffron click on his parents names. You can also heck his brother and sister here:
Full sister: http://fallcreekfarm.net/firstfresheners.html#pearl
Full brother: http://fallcreekfarm.net/bucks.htm#leopold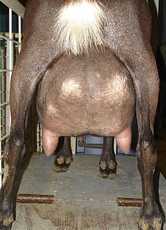 Saffon's dam's udder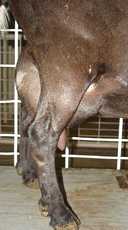 Saffron's dam's udder
Moonshine Acres Elf'n Magic
Magic is a pretty black doe with white spots/markings. Magic is almost 9 yrs old. She would make a wonderful brood doe or family milker. (See a son of Magic here: http://www.grasseacres.com/bucks.htm - Prairie Oak Flapjack) Magic's sire is Karims Rock n Roll Richter and her dam is Moonshine Acres Kind of Magic. Asking $200 for Magic.
Magic's Pedigree:
SSS: MCH Woodhaven Farms Lonesome Blue (Sired by MCH Jobi Goldsmith)
SS: Karim's Storm Cloud
SSD: Karim's Bunny
Sire: Karim's Rock'N'Roll Richter
SDDS: Goodwood Mr. Periwinkle
SDD: Goodwood Hey Hey Paula
SDD: Goodwood Guadalupe
DSS: MCH Hayseed Farms King Alfred MM
DS: Gay-Mor Al's Freddy Mercury
DSD: Unicorn Farm Tomba's Fignewton *D
Dam: Moonshine Acres Kind of Magic
DDS: Star Farms Chocolate Chip
DD: Kathaus Gladiola
DDD: Kathaus Beautiful Dancer
Prairie Oak Color Me Freckled
Freckles is a beautiful Nigerian doe with lots of color. Would make a wonderful pet for your family. Gentle and small, she is used to children. Her owners have kept her as a pet and have not bred her so although she has wonderful genetics, she may not make the ideal breeding doe (may have difficulty conceiving for the first time at 6 years old) You can see her sire, Piddlin Acres Gelflynn, here: http://www.nigeriandwarfdairygoats.com/flynn.html and her full sister, Prairie Oak Nillafudge Rip'l, here: http://www.grasseacres.com/does.htm
Asking $150 for this beautiful Nigerian Dwarf doe